June 6th, 2010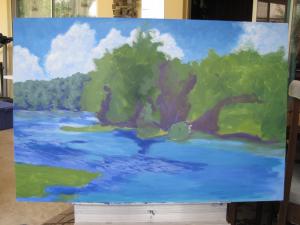 This is my second day of work on my work in progress, a painting of the Rainbow River in central Florida. I spent most of my time on the sky, deepening the blues, and adding clouds. I will probably continue adjusting the sky as I go. I also worked on the most distant foliage, on the left side of the painting, working with shadows and highlights to give it dimension. And I began layering colors onto the water surface. In time there will be a feeling of depth and transparency to the river...that is my goal anyway. The river is part of Rainbow Springs, and has very unusual bright turquoise patches of color characteristic of the springs. It's nearly fluorescent, and has an almost unnatural appearance, although it is entirely natural. I think it will be a challenge to depict these areas...I've already put some in and painted over them once! I'll keep working on it. Water is not an easy thing to paint, at least not for me, not yet!

I love to paint water, trees, sky, nature...all found in the local and regional parks near where I live in Clearwater. I hope to paint several more pieces from my visit to Rainbow Springs. My last two finished works, Wind in the Trees, and Lake Tarpon on a Cloudy Day, as well as several previous pieces, Wooden Footbridge at the Park, and Dancing Waters, were painted of views at John Chestnut Sr. Park in the East Lake area of Clearwater, on Lake Tarpon. It's a wonderful park. I also hope to visit several more parks over the summer along the Gulf coast, including Crystal River and Suwanee River, and the coastal estuaries. They are still pristine and precious places that I know will inspire me...but with the massive oil spill looming, though still far from our shores, we cannot take for granted that they will always be so beautiful and unspoiled. As a person who loves the nature and wildlife of Florida, I hope to express my deep concern for the natural environment and advocate for it's protection and conservation.

"Art is contemplation. It is the pleasure of the mind which searches into nature and which there divines the spirit of which Nature herself is animated." Auguste Rodin
June 5th, 2010
Started a new painting this week, a view of Rainbow River. I visited the state park at Rainbow Springs in central Florida a few weeks ago, when my daughter was camping there a few days with her dance/bike team. I spent a few hours blocking in the colors and shapes to get started, pretty much just slapping paint on to cover the white canvas using a large brush. It's kind of fun to paint that way since I generally paint in a controlled way. It's a large canvas, 24x36. I'm looking forward to working on it.
December 1st, 2009
It was great to have some time to paint today. I was off work at 1 pm and spent my afternoon and evening painting, in between laundry, dinner, and applying a few hundred rhinestones onto my daughter's newest Latin dance dress. Guess I'm a multitasker! Anyway, I worked on the rocks, the bridge, and the water in the foreground today. It needs more work...the bridge looks too outlined, so I need to soften that. The reflections too, a bit too stark. The island isn't finished, it will get some plants I think.

It's been so odd to show people these awkward, ugly duckling steps along the way to (hopefully) producing a finished painting. It's even odd to see them myself, at intervals...I've never done this before. It's pretty cool though. I hope some of my family, friends and Facebook 'fans' are finding it interesting to see how it happens. It does also seem to give me more motivation to keep working on it frequently. Don't know if I've ever painted a canvas this large and a composition this complex in such a short time...just one month now, in eight sessions....which for me is fast. I do wish I could paint full time, but I have a job, a family, five pets, and a tight budget. I think I may make a goal for next year of painting one new work each month (except December!) I think I might actually be able to do that. Anyway, for this one, I think one or two more sessions may do it.



November 29th, 2009
Over the Thanksgiving weekend I managed to work on and off on the painting, about 5 hours total. I worked a lot on the trees, adding sky through the tree leaves, putting orange leaves behind the green trees, adjusting the shadow colors, and working again on the water reflections behind the island. I'm happier with the result but still have more tweaking to do, and there is plenty left to do on the land, rocks, and the water in front of them. I hoped to get it done this weekend but there was too much going on. Besides Thanksgiving, we celebrated my son Kevin's 20th birthday.....and today is my 50th birthday. Don't like to admit my age, but I guess I better just get over it and look forward to the new decade ahead! I hope to create many new paintings in the years to come.


November 23rd, 2009
I had to take most of last week off from painting. Between my job, being a mom-taxi, and a sewing project, there was no time to paint. I have to prioritize, and like it or not I often have to put painting last on the list....and I don't like it! But my very supportive husband helped make it possible for me to take Sunday afternoon for myself, and I spent about 5 hours painting. I spent almost all of the time on the water. I have worked and reworked the tree reflections and still don't have it right. This is when being an artist/painter starts to get frustrating and you wonder, why do I do this to myself?? But the answer is, because I have to, because I love to. I'll keep working on it until it looks and feels cohesive.



November 16th, 2009
I had a busy weekend, between a 4H open house with my daughter, chores, painting a ceiling for a friend, etc. But I found a few hours late Saturday evening to paint on my work in progress. I did more work on the foliage, and then on the water. The reflections are a challenge...I'm not happy with the result yet, especially in the area behind the island where the fall colors are reflected. My reference photos don't show enough color there so I'm kind of on my own composing it. I have more work to do...lots! I just realized this photo is washed out too so isn't a good representation. I'll replace it when I can shoot another.


November 13th, 2009
Any day I can sleep in, stay home, and paint for over four hours is a really GOOD day! I enjoyed the process of working on the tree foliage today, and started a bit on the reflection in the water. I've never painted autumn colors before so it's an interesting change from the usual greens of my other landscapes. Capturing the brilliance of nature without making it appear garish is a challenge. I'm sure I will rework the leaves as I continue, trying not to let them become too individual (since of course at that distance you could not see individual leaves) and I am trying to give it a somewhat impressionistic style.



November 11th, 2009
Now I'm caught up posting my work in progress this week. I had several productive sessions, but wasn't able to upload the images for this blog until tonight. I hope to stay current after this one. In this session I mostly worked on the background trees, a little more on the far lake bank, and a little on the foreground grassy areas, and some deep shadows. I'm enjoying the process of this painting, so far it's flowing smoothly. I've never documented a painting in progress before and it's fun for me to be able to see the stages it goes through...I usually just forget what it went through by the time I'm done. Funny too that I didn't realize my husband was in the photo, at his computer on the other side of the room!



November 11th, 2009
I started a new painting this week. I'm using reference photos from a trip years ago to an arboretum in Ohio during the autumn. In Florida there is no seasonal color so I find the color changes so fascinating and beautiful. As a new experience, I'm also taking photos of my painting as it progresses, after each work session, and posting it on my Facebook artist's page, Penny's Art Adventures. I hope this will be an interesting little saga for my family, friends, and 'fans' to see how I create a painting from start to finish. I'm sure every artist has his or her own method...how fun it would be to see how other artists go about their creative process. I only hope my finished painting will be one I feel is my best work.

This is the first day's work, the 'crayola stage' as my daughter described it. I had only a couple of hours and wanted to cover the canvas quickly since I find blank white canvas distracting.



October 20th, 2009
I feel I'm making progress in my effort to connect my art to the world, so far only the virtual world... through FAA, blogspot, and my new artist's page on Facebook. I am waiting on setting up my own website, both for financial reasons and because I don't feel I have enough artwork yet to make it interesting enough. I'm encouraged by the kindness of my family, friends, fellow FAA artists and visitors who have commented, viewed my work, and become a fan of my artist's page.

My challenge continues to be time...time to paint, draw, etc. I have many new reference photos that have inspired ideas for new paintings, but no time to begin them, nor time to finish the paintings I started a few weeks ago. I am drawing when I have time at work, using colored pencils, and that is helpful. Perhaps I will create some finished pieces using that medium as I get more practiced. Work is keeping me busy. I took a weekend trip to see my older sister, who is ill. We have a Halloween party next weekend we're decorating and preparing for. My daughter has a 'zombie' dress we're working on for her dance team performance of 'Thriller' on Halloween. A dear old friend lost her husband suddenly and I need to attend services for him this weekend. Life has a way of pushing things to the side, and since being an artist is not my full time job (yet) I have to make way for other priorities most of the time. In the meantime, I am glad that at least my virtual world is expanding, and I hope I'm laying the groundwork for marketing and networking when I do have time to expand my portfolio of artwork, as I long to do.
September 15th, 2009
All I need is time. Time to put paint on canvas and get in the zone. But there is so little time for that. I have a part time job I like very much, and need the income from....then I have chores, shopping, cooking, etc at home...and then there's taking my daughter to 4H meetings and dance lessons and shows and competitions and making her dance costumes....and keeping up with my son's first year in college...and my husband's schedule...and my 2 dogs and 3 cats....and my family, facebook, email....

At the end of it all, I rarely find a way to carve out time to paint. It feels like a wild thing inside me, trying to claw it's way out...I keep telling it, no, not now, not yet, I don't have time for you, wait, just wait, maybe tomorrow.... It seems to listen to reason, but then I wonder if it doesn't start gnawing on me with impatience...and it reminds me that it's important too.
September 12th, 2009
I am so excited to join FAA at last. I have my first 5 images on my site, and more are to come as they are ready to post. For me this is an adventure, beginning to show my work to a wider audience and building my career as a fine artist. That has been my dream for many years...now is the time to begin. Yay!